The Allwin Plus is a high-temperature package dyeing machine. Based on wave dyeing technique, Allwin Plus empowers the production in an eco-friendly and energy efficient manner.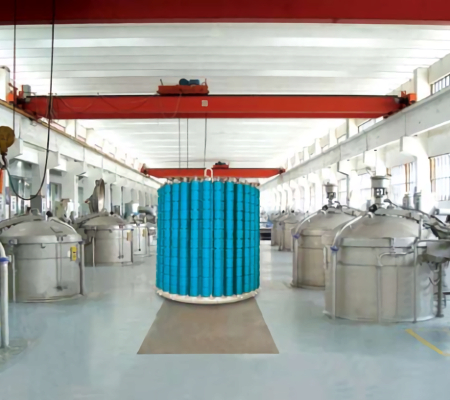 Allwin Plus
(High temperature, high pressure dyeing machine)
ALLWIN dyeing machine is designed for the processing of packages in the form of cheese, cone, hank, warp beam, muff, top, and loose fibres. Loose fibre is processed by the use of a basket or can. The machine can adapt packages in cones or tubes as well as yarn wound on beams. It maintains an almost consistent low liquor ratio in the process for the same type of material being processed.The machine is available in either air-pad or fully flood version or in combination, suitable for different process application. ILC Intelligent Leveling Control function enhances shade levelness throughout the package. The AIR+ and high-temperature drain function allow shorter process time and reduce consumption of cooling water and energy. It helps in economising water consumption, electricity, steam, chemicals, and time. It can be used for cotton, polyester, poly/cotton, acrylic, polyamide (nylon), wool, ramie/cotton, etc.
Manufactured by: Fong's National Engineering Co., Ltd., Hong Kong
FEATURES

BENEFITS

RESOURCES

GET A QUOTE
Technical Details
Design pressure: 5.2 bar
Heating gradient: 25-100°C approx. 4.5°C/min 100-130°C approx. 2.5°C/min (dry saturated steam pressure at 7 bar)
Design temperature: 140°C
Cooling gradient: 130-100°C approx. 3°C/min 100-80°C approx. 2°C/min (cooling water at 3 bar, 25°C)
Key Features
Multiple safety interlock: distinctive temperature, pressure, and water level multiple safety interlock, ensures operational safety
Unique fuzzy logic temperature control: temperature control can be confined down to ±0.3°C
Intelligent leveling control: optimised flow reversal process, optimal inflow and outflow ratio ensuring exceptional leveling result
Patented all-in-one layout: patented unified compact layout of V-pump, heat exchanger, and 180° flow reversal device. Lower liquor ratio and improved heat exchange efficiency
Advanced Intelligent Rinsing System (AIR+): fully automated rinsing process optimises rinsing time and water consumption, and gives excellent rinsing quality
Multi-functional preparation tank: equal-volume multi-functional preparation tank, together with pre-heating and pre-mixing functions, significantly reduces process time
High temperature drain: allows hot liquor to be discharged without cooling, thus shortens the dyeing time
Hydro-extraction: effectively removes excess water from packages or beams by pressure difference (assumption single-flow liquor ratio 1:4; dual-flow liquor ratio 1:5.2 on same capacity and recipe)
Saving dyestuff, chemicals, steam, and water consumption, at the same time reduce effluent generation
Reduced process time: smooth flow and exchange of dye liquor speeds up the dye processes
Save production cost: save on water, energy, and chemicals, saving up to 20roduction cost
Energy saving: high efficiency heat exchanger, significantly reduce heat loss, improves efficiency. Together with frequency inverter driven main pump motor, it reduces power consumption
Broad application: suitable for process natural and man-made fibres and their blends in forms of yarn, beam, loose fibres, hanks, and many more
Ultra-low liquor ratio: 1:4
Flexible loading: exclusive quick operation conjunction tube, achieving flexible loading in production
Reduce spatial occupancy: compact pipework layout, saving 25 percent of space occupancy
Your message was sent successfully. Thanks.