MICROWIN can be used to dye small packages, saving expensive yarn materials, dyestuff, chemical and energy cost. It is suitable for laboratory use and is a good companion in high quality dyeing workplace.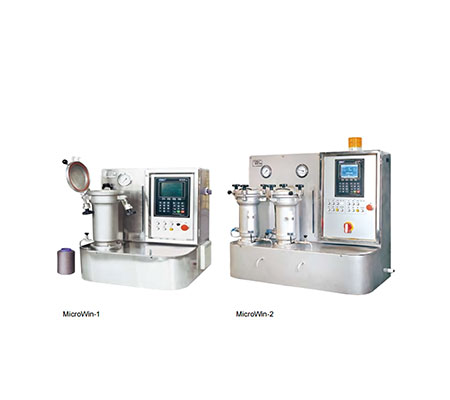 MICROWIN
(Sample dyeing machine)
This mini sample yarn dyeing machine comes with a new generation of FC30 program controller, provides the most cost-effective dye cycle control. Equipped with unique fuzzy logic temperature control technology, the temperature can be confined down to ±0.3° C.
Manufactured by: Fong's National Engineering Co., Ltd., Hong Kong
FEATURES

BENEFITS

RESOURCES

GET A QUOTE
Technical Details
Cooling gradient: 130-80°C approx. 20 min
Design temperature: 140°C
Design pressure: 5.2 bar
Heating gradient: 20-130°C approx. 30 min
Key Features
Liquor ratio same with production machines, ensures reproducibility
Smallest yarn dyeing machine with true dual directional dyeing
Immersed electrical heater, no steam required
Compact and light-weight
Suitable for small packages
Saves 75 percent of yarn materials, dyes, and additives
Your message was sent successfully. Thanks.