LABWIN is designed for dyeing 1-6 standard packages. Apart from giving a high quality sampling, it can also be used for small batch dyeing.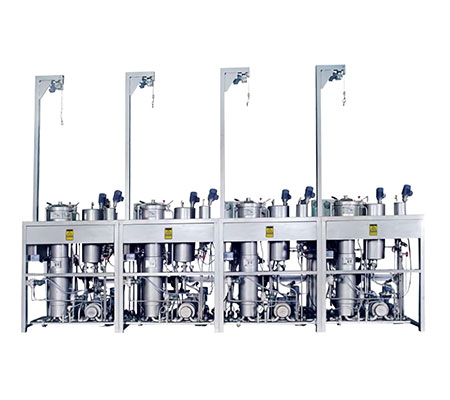 LABWIN
(Advanced dyeing machine)
The process data developed on the LABWIN can be applied to an industrial scale with very little adjustment. Therefore, any improvement in the production process can be simulated on the LABWIN machine before starting the industrial production. This helps in reducing the load, thereby controlling the consistency of the liquor ratio. It has the same functional features like the industrial size machine. Its liquor ratio and flow rate is in line with the bulk production package dyeing machine. ILC Intelligent Leveling Control function enhances shade levelness through the package. LABWIN can be used to process cotton, polyester, poly/cotton, acrylic, polyamide (nylon), wool, ramie/cotton, etc.
Manufactured by: Fong's Industries Company Limited, Hong Kong
FEATURES

BENEFITS

RESOURCES

GET A QUOTE
Technical Details
Cooling gradient: 130-80° C approx. 20 min (cooling water at 3 bar, 25° C)
Heating gradient: 20-130° C approx. 30 min (dry saturated steam pressure at 7 bar)
Design temperature: 140° C
Design pressure: 5.2 bar
Key Features
Using FC30 program controller, developed recipe is transferable to production
High reproducibility: liquor ratio same with production machine, recipe can be directly adapted
Dual directional dyeing with ILC enhances levelness of dyeing
Maximum of 4 units of individual machines can be easily linked
1, 3, and 6 package models available
Airpad technology and spindle for reduced loading ensures consistent liquor ratio
Direct application of recipe developed
Optimum flow rate
Versatility in coupling
Versatility in capacity
Your message was sent successfully. Thanks.