Smit's technical fabric weaving machine is a customized solution for the production of special technical textiles. Based on the concept of modules developed for these machines and available standard machines in the working widths of 1400 to 3600 mm.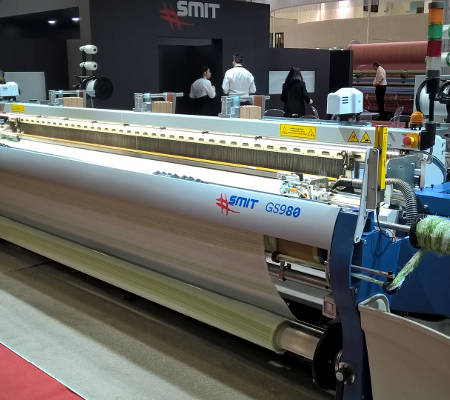 Technical fabric weaving machine
(For manufacturing of technical textiles)
Smit technical fabric weaving machines are suitable for manufacturing a wide range of textiles for technical applications - from heavy conveyor belts to finest mesh for bolting cloth, as well as electronic boards, air bags, synthetic/metallic filters and much more. The front shed designed to avoid friction points and hard chromium-plated press rollers prevent wear on fibres. No guiding teeth on the warp means no friction on the warp yarn which ensures minimum stress on the warp. This is particularly useful when using glass fibres.
Manufactured by Smit S.r.l, Italy
FEATURES

BENEFITS

GET A QUOTE
Key Features
Specialised for technical fabrics with patented weft insertion grippers and other technical features such as relevant control system, shed geometry, reed beat-up and warp control
For glass fibres, regular weft insertion is ensured by special grippers that are designed to prevent wear
For glass fibres, specific leno binding prevents fabric distortion
Large range of yarn counts from (above 900 tex)
Double warp feeding for increased capacity available
For fabric used in heavy industrial applications, high precision is ensured by high warp tension, and modulated by special braking rollers
For fabric used in heavy industrial applications, high cover factor thanks to a heavier, stiffer and stronger sley bar and supports for very dense fabrics
Dynamic rapier control
In airbag fabric manufacturing, highest cover factor with special full width temple for low cloth recoiling/high weft density
In airbag fabric manufacturing, delicate yarn handling is ensured by special press rollers, no guiding teeth and laser warp stop motion to avoid friction on warp threads
In bolting cloth, excellent control of weft density
In bolting cloth, maximum precision in fabric thanks to dedicated sley bar movement, and special heald frames movement as well as minimum back and front shed angle
In bolting cloth, low yarn stress thanks to special control of the weft selectors fingers
For Aramid fibre: constant fabric properties ensured by back rests special surface coating on all warp friction points to avoid sticking on the yarn
For Aramid fibre: knot-free sensors
For Aramid fibre: grippers with special profile designed to avoid contact between the tape and the warp
Benefits
Tailor-made for high performance and maximum productivity in technical textiles
Functional, compact and user-friendly design
Modular design developed for these machines and weft transport technology permit working widths of 140 to 360 cm with excellent insertion rates
Suitable for the manufacturing of a wide range of fabrics: glass, carbon, high-precision printing and bolting, aramid, airbag, and industrial and heavy fabrics, among others
Your message was sent successfully. Thanks.