The SMIT-ONE is a patented, high speed single rapier weft transfer weaving machine for the manufacture of technical textiles.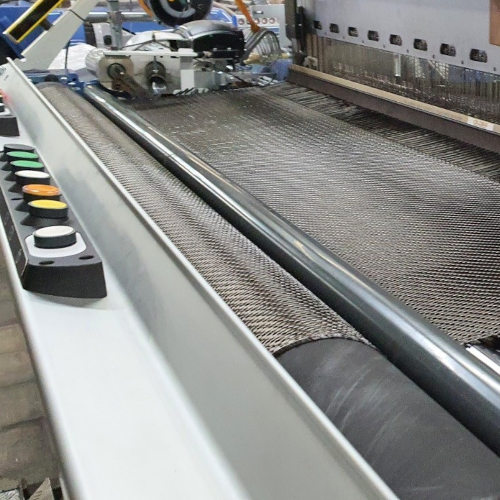 ONE
(Single rapier weft transfer weaving machine for technical textiles)
The Smit-One is designed to produce sophisticated fabrics with fancy/irregular weft yarns as well as conveyor belts and bolting cloth. The versatile and flexible ONE is can be used for manufacturing safety gear, glass fabrics, carbon fabrics, filter fabrics, sportswear, and more. The Smit-One has a dynamically controlled flexible tape rapier that ensures excellent performance in all reed widths – from 140 up to 220 cm. Three different solutions of fancy beams are available, with beam flange diameters of up to 1000 mm.
Manufactured by Smit S.r.l, Italy
FEATURES

BENEFITS

RESOURCES

GET A QUOTE
Key Features
Weft transfer at the same position, ensuring an effective and repetitive hold
Fastest free-flight rapier with no guiding teeth
Transfer weft at low weft tension resulting higher insertion efficiency
Reduced warp shed amplitude, thus increasing efficiency
Easy to adjust machine during article change, reducing machines downtime
Can use all yarn types that were so far not weavable on traditional rapier systems
Special pliers that perfectly hold any weft shape, weight, and consistency
Laser stop motion, or full-width temple can be offered
PosiLeno® system in leno-woven fabric production
Reinforced backrest structure increases warp tension by more than 50%
Special type of pressure rollers prevents slippage of cloth on take-up roller
Stronger sley bar enables use of dense fabrics on the machine
Take-up designed for ultra-high warp tension
Weaver beams up to 1100 mm and fancy beam can be used
Benefits
Fabrics for technical, fashion, furnishing applications, as well as classic fabrics with exclusive yarns and patterns, can be woven with excellent quality and high efficiency on the SMIT - ONE
Dynamically controlled flexible free-flight tape rapier system; enhances the weft insertion
Highest versatility and efficiency in terms of weft insertion; suitable for a wide range of yarns, and unparalleled simplicity in the article change
Minimum maintenance costs
Free flight technology - no friction on the warp yarn
Consistent fabric properties from full to empty warp beams
Special take-up system avoids friction points and wear on yarn
Your message was sent successfully. Thanks.