The Smit GS980F is a high speed shuttleless weaving loom in which the filling/weft yarn is carried through the shed of warp yarns to the other side of the loom by two finger-like carriers called rapiers, mounted on flexible flying-ribbons, which exchange the weft in the centre. The Smit GS980F improves productivity due to its high speed of operation with efficiency and versatility.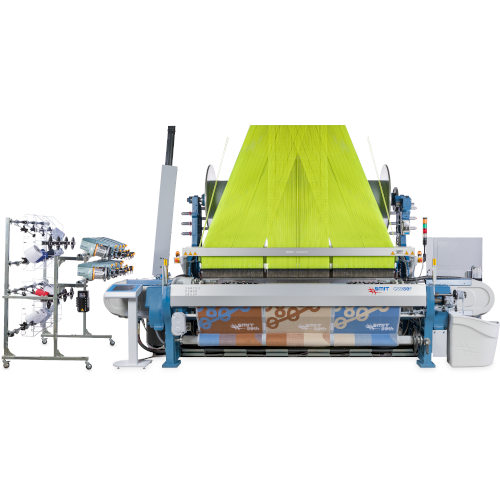 GS980F
(Towel weaving machine for bulk terry)
With seven different working widths, from 220 to 360 cm, SMIT GS980F is a perfect towel weaving machine for bulk terry. The rugged structure and stiff drive mechanisms of the GS980F ensure high productivity and operational stability both in Dobby and Jacquard weaving machines. The Smit GS980F enables cost-effective weaving of terry fabrics coupled with high quality, exclusive, patterned terry towel fabrics from heavy velours to matched towels and bulk terry production. This high speed shuttleless weaving loom also features Smit's patented system of pile formation called Dynamic Pile Control which treats warp yarns gently.
Manufactured by Smit S.r.l, Italy
FEATURES

BENEFITS

RESOURCES

GET A QUOTE
Key Features
Rocking reed
Patented grippers and supporting teeth
High performance Jacquard drive
New Leno-Force system
Pile tension equalizer
Software-controlled E-Cut
High efficiency motor with high torque
Rapier drive and optimized distribution of mass
Dynamic Pile Control, once programmed on loom terminal or jacquard memory, allows to switch from one pick ratio to another while machine is running to create unique relief patterns and effects like pile waveforms
Warp let-off, electronic take-up, pile formation drive and main direct drive, simultaneously controlled ensure maximum accuracy in the electronic warp control and excellent and stable fabric quality for whatever yarn count and type of pattern
Benefits
Smit terry weaving technology which ensures pile regularity and pile height evenness leading to good quality product
Rapier sliding supporting teeth, specific for terry fabrics ensure easy settings and self-cleaning warp shed
Pile tension equalizer system, ensures the gentlest treatment of warp yarns, ensuring production of first-rate terry quality ad guaranteeing high performance with single-ply and low torsion pile yarn, for the most soft, absorbent and luxurious terry fabrics
Dynamic Pile Control enables pile formation by sley deferred motion (rocking reed), with loose pick distance up to 24 mm, securing the gentlest treatment of warp yarns leading to good quality product
Your message was sent successfully. Thanks.