The Smit GS980 is a high speed shuttleless weaving loom in which the filling/weft yarn is carried through the shed of warp yarns to the other side of the loom by two finger-like carriers called rapiers, mounted on flexible flying-ribbons, which exchange the weft in the centre. The Smit GS980 productivity due to its high speed of operation with efficiency and versatility.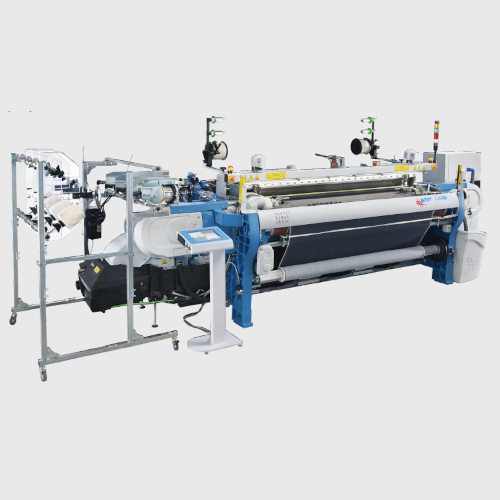 GS980
(High speed shuttleless weaving loom for high quality production)
The SMIT GS980 is a well-proven product for the production of high quality fabrics for apparels, home textiles, technical applications and fabrics with exclusive yarns and patterns. The free flight ribbons, Leno-Force, and patented gripper system makes the GS980 an asset to any weaver. Its high efficiency, heavy torque motor allows the GS980 to operate at speeds of up to 1650 m/min, depending on style and machine width. The Smit GS980 is a good mix between low maintenance costs, high productivity, and low energy consumption.
Manufactured by Smit S.r.l, Italy
FEATURES

BENEFITS

RESOURCES

GET A QUOTE
Key Features
Smart platform
New Leno-Force system
New patented grippers
Software controlled e-cut
High efficiency motor that generates high torque
Rapier drive and optimized distribution of masses reduces vibration and noise
Real-time monitoring of weft movement and behaviour during the weft insertion
Benefits
Free flight ribbons system and optimized shed geometry ensure top fabric quality by avoiding marks, warp yarn wear from friction between hooks and yarns
New direct drive and short kinematic arrangement ensures low vibration and noise
Warp let-off, electronic take-up, and main direct drive are simultaneously controlled to ensure maximum accuracy
Excellent and stable fabric quality for whatever yarn count and pattern type
New, efficient lubrication system with forced oil circulation guarantees low energy dissipation in mechanisms, avoiding the adoption of additional oil cooling systems; extended lubricant life time reduces maintenance costs
New shed-crossing phase setting from touch screen terminal shortens set-up and start-up times considerably
Your message was sent successfully. Thanks.