Mahlo's Calipro DML is a two-sided, non-contact, laser-type thickness gauge can be used to monitor virtually any product in web or sheet form. Calipro DML has proven its effectiveness in the nonwoven sector and plants manufacturing other calendered or extruded plastic webs and sheets, and in the manufacture of artificial leather.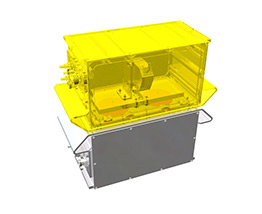 Calipro DML Non-contact Thickness Gauge
The thickness of the product is determined by evaluating the difference between the two measured values. This is done by the Calipro DML's built-in microprocessor, which at the same time synchronises the upper and lower lasers and, on the certain versions, processes in real-time the data measured by the numerous temperature sensors, which compensate for any temperature-related dimensional changes in the housing.
Manufactured by: Mahlo GmbH & Co. KG., Germany
FEATURES

BENEFITS

RESOURCES

GET A QUOTE
Key Features
Non-contact, non-destructive, and ultra-precise measurement of online product thickness
Available in several configurations to suit various accuracy requirements
Can gauge either at one side against a reference roller or on both sides
High sampling rate and resolution of the cross-web profile
Since the gauge is able to traverse, it indicates the thickness of the product from edge to edge
Determines the thickness of a web or sheet directly without reference to product density
Non-contact measurement has no adverse effect on either product quality or the manufacturing process
Insensitive to variations in.the surface of the product, thus ensuring a high degree of measurement stability
Highly responsive
Your message was sent successfully. Thanks.