With its patented measuring technique Mahlo's Aqualot AMF/HMF sensor makes it possible to detect even the smallest amounts of water accurately and with a high degree of stability, thereby enabling it to be used on even thin printing paper, airbag materials, or the nonwovens used in the hygiene sector, without its accuracy being affected by product colour or composition.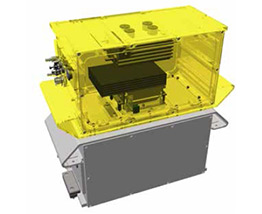 Aqualot AMF/HMF Moisture Measuring System
Product moisture is an extremely important parameter for the manufacturer and processor of web products such as paper, textiles, cardboard, and nonwovens. The Mahlo Aqualot utilises microwave-absorption technology thus allowing it to measure thin online material with lower levels of moisture.
Manufactured by: Mahlo GmbH & Co. KG., Germany
FEATURES

BENEFITS

RESOURCES

GET A QUOTE
Key Features
Microwave resonance analysis ensures accurate and stable measurement
Unaffected by colour of product web or its chemical composition
Temperature compensation by using a pyrometer
Servo-motor controlled tracking of the lower resonance chamber in traversing mode (sensor model DS-115)
Non-destructive, continuous determination of the moisture content in product webs
Extremely accurate and stable measurements with minimal calibration
Long life through the use of high quality components
Wide measuring range through the use of various resonance configurations
Your message was sent successfully. Thanks.