The Mahlo Infralot IMF sensor can detect and measure various important characteristics of an online material such as moisture, organic content, etc. in a completely non-destructive manner.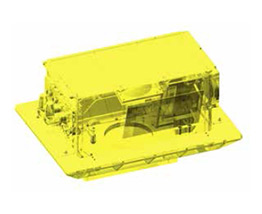 Infralot IMF Moisture and Organic Compound Measurement Sensor
The NIR backscatter sensors of the Mahlo Infralot IMF sensor are based on the classic 6-filter measuring principle, but are updated with the latest optical components. IMF sensor can measure online materials nondestructively and without adversely affecting the product's characteristics' important parameters such as moisture, coating weight, the thickness of plastic film, or the organic components in nonwovens.
Manufactured by: Mahlo GmbH & Co. KG., Germany
FEATURES

BENEFITS

RESOURCES

GET A QUOTE
Key Features
Beam generation by means of a robust halogen lamp
Can be calibrated by means of a simple gauging tile. Detectors cooled by an integrated, regulated Peltier element
High-speed filter wheel with six optional filters
Non-critical with respect to product distance and impurities
Non-destructive, continuous analysis of various web or sheet parameters
Exceedingly accurate and stable measurements; minimal calibration
Long life expectancy through the use of high-quality components.
Wide range of applications by using various measuring wavelengths
Easy to install
Easy access to measuring optics for cleaning purposes
Your message was sent successfully. Thanks.