KARL MAYER PRODYE slasher indigo dyeing machine is a fully automatic, computer-controlled machine that is engineered to grant precision process control, thus producing high quality warps.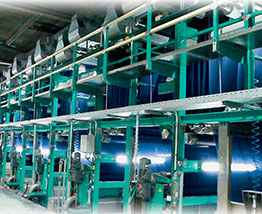 PRODYE Slasher Indigo Dyeing Machine
The perfection solution combined with the best indigo dye tecnhlogy, PRODYE is a computer-controlled dye and chemical preparation with a dosing system which enables precise dosing and a uniform stock solution via online ultrasonic indigo preparation. The system reduces losses during use of dyestuff and chemicals thus improving economy while simultaneously reducing the environmental impact of excess dye. PRODYE is suitable for all staple yarns, warp applications, and yarn counts. PRODYE enables precision control over warp production by ensuring that the process takes place within pre-selected warp preparation parameters, thus producing quality warps.
Manufactured by: KARL MAYER, Germany
FEATURES

BENEFITS

RESOURCES

GET A QUOTE
Technical Details
Application range: sheet denim
Key Features
Provision of Nitrogen treatment and reactive dyes
Double VARIO dye troughs ensures longest dwelling in slasher technology (11.2 m)
Eco-Wash ensures optimum washing performance with counterflow
Perfect bath circulation with cross flow system for uniform dyeing results
Quick oxidation increases dyestuff pick up with hot air flow
DNC KAMCOS SYSTEM - operator interface IPC/touch screen 12.1"
Machine available with single and double headstock
Ethernet interface for networking and connection for the relevant data acquisition and teleservice
Tailor-made execution for classic denim to fine shirting
Trouble-free maintenance and machine operation
Reduction in percentage of second choice fabric
25 percent less dye bath
Reduction in water consumption and waste yarn
Double productivity in case of light-weight denim
Possible to achieve uniform darker indigo shades
Your message was sent successfully. Thanks.