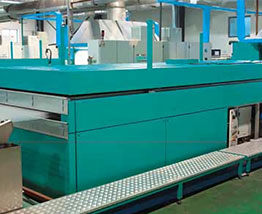 Siz-O-Matic-Glass Sizing Machine
The KARL MAYER Siz-O-Matic glass sizing machines produce quality warps by means of innovative technology. These sizing machines are suitable for all kinds of filament yarns. The computer control system KAMCOS sets the standard for production quality control and assures reproducibility of all production parameters. During the weaving process the warp production can be controlled within precise pre-calculated warp preparation parameters, ensuring high reproducibility and uniformity in any operating condition.
Manufactured by: KARL MAYER, Germany
FEATURES

BENEFITS

RESOURCES

GET A QUOTE
Technical Details
Application range: glass
Key Features
Hardware and software package for a problem-free link between machine and network, for the transfer of logs and of real time data to an external computer as well as for the compilation of users own log characteristics
Size box – with steep bath and drip channel as well as laser-end break detection beam unwinding frame motor driven for uniform unwinding precision beaming machine
For warp beams of up to 2.300 mm width and a dia. of 1.000 mm air drier
A double-storey air chamber in counter-current procedure and a drying cylinder guarantee minimum residual moisture for a perfect warper beam build-up.
Individual motor drive with rapid feedback via load cells or balance arms (glass)
Complete system overview
Recipe and setting storage and recall
Fault analysis
Your message was sent successfully. Thanks.