Using the latest hi-tech cameras, the PCS-12 measures repeat and straightens pattern simultaneously. It has a modular assembly and is a perfect partner for skew correction and pattern repeat control.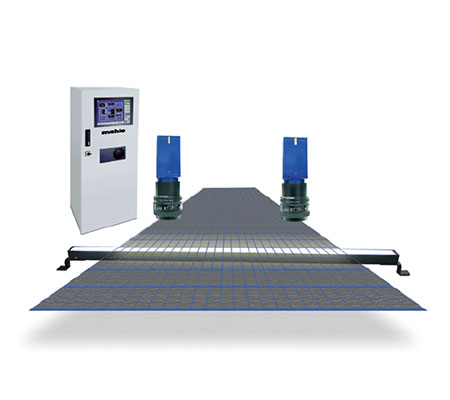 PCS-12
(Pattern control system)
The PCS-12 is the leading pattern detection system using camera technology. The repetitions of printed, woven or tufted patterns are evaluated according to certain algorithms and are used for measuring, correcting, and evaluating distortions and patterns. The system uses one or two cameras, depending on the width of the product, to detect the position of the pattern and automatically and continuously determine the pattern repeat. It also determines the product width, and together with a straightening machine it aligns the product distortion based on the recognised pattern.
Manufactured by: Mahlo GmbH & Co. KG, Germany

FEATURES

BENEFITS

GET A QUOTE
Technical Details
Raw material: versatile
Key Features
Uses camera technology for measuring, corrections and evaluation of distortions and patterns
Back/reflex lighting, airbag check with back lighting
Control panel with evaluator, control and display terminal
Measuring table with mobile camera and lighting
Can be used for printed, woven or tufted patterns
Checks the presence of the so called patches on both sides of the airbag by contactless measurement
Detection and correction of distorted patterns in printed, woven or tufted material
Uninterrupted monitoring and logging of actual product quality
Savings in raw materials and energy at the manufacturing stage
Increased productivity
Your message was sent successfully. Thanks.