The Orthomat GRFMC-12 is a heavy-duty straightener designed for heavy pressures. Used for various applications, it maintains tight distortion related tolerances.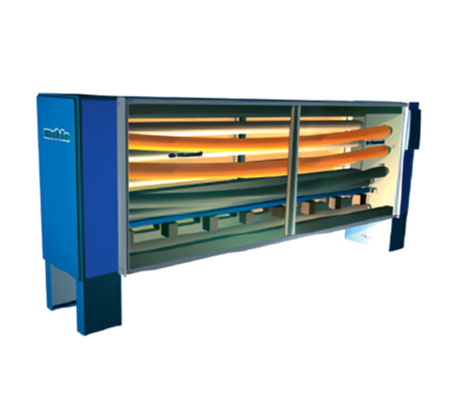 Orthomat GRFMC-12
(Heavy duty straightener)
High demands caused by large product widths (e.g. carpets) or dimension-stable textiles with defined skew settings (e.g. denims) require reinforced configuration. The Orthomat GRFMC is specially designed to withstand high mechanical loads. Thanks to reinforced components, it is ideal for processing really wide, heavyweight materials such as carpeting and denim. Distortions impair a product's visual features and/or practical value, both of which are of particular significance in the case of decorative or industrial materials. Orthomat GRFMC straighteners are used wherever products are likely to subject machinery to exceedingly high tensional stress.
Manufactured by: Mahlo GmbH & Co. KG, Germany

FEATURES

BENEFITS

RESOURCES

GET A QUOTE
Technical Details
Raw material: versatile
Key Features
State-of-the-art straightening unit
Heavy-duty version for large product widths and for products with denims
Frames and bearings
TFT screen: 15"
Can work with tensional forces of up to 500 kg
Low product content, adjustable scanners
Can be used in conjuction with pattern control systems
Maintains tight distortion related tolerances
Your message was sent successfully. Thanks.