The Orthofact MMB-12 pinwheel straightener ensures a consistent straightening effect. Equipped with intelligent drive, it works on all kinds of distortions.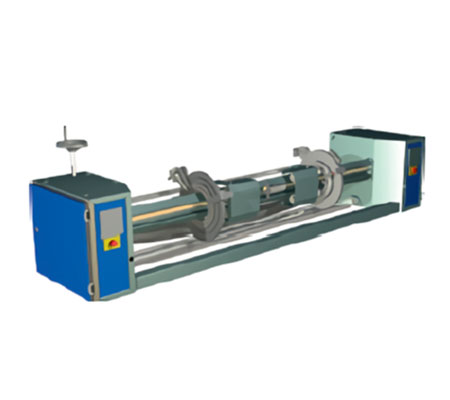 Orthofact MMB-12
(Pinwheel straightening system)
Asymmetrical distortions (wavy, S-shaped, etc.) in textiles have always represented a huge challenge in the textile industry. Distortion always means that the rectangular structure of warp and weft threads is distorted resembling something like a parallelogram. To restore the warp and weft threads to their original state, a defined lateral tension is generated using freewheeling, inclined pinwheels. This cross-tension stretches the warp threads. The distortion, irrespective of whether wavy or S-shaped, will be corrected. On the Orthofact the lateral tension is generated with two inclined pin-wheels. Two pneumatic cylinders, supplied via a pneumatic line, are used for a consistent straightening effect. To compensate friction losses and tolerances, a spring generates a counterforce which forces the uniform symmetric alignment of the pinwheels. Elaborate lever constructions requiring intensive maintenance can thus be dispensed with.
Manufactured by: Mahlo GmbH & Co. KG, Germany

FEATURES

BENEFITS

GET A QUOTE
Technical Details
Raw material: versatile
Key Features
Pinwheel straightening system
Inclined pinwheels generating defined lateral tension using freewheeling
System used when there is no way to combine the straightening function with a stenter
Removal of S-shaped distortions, less waste, optional lateral displacer for use before printing
Your message was sent successfully. Thanks.