Networking oriented Enterprise Resource Planning.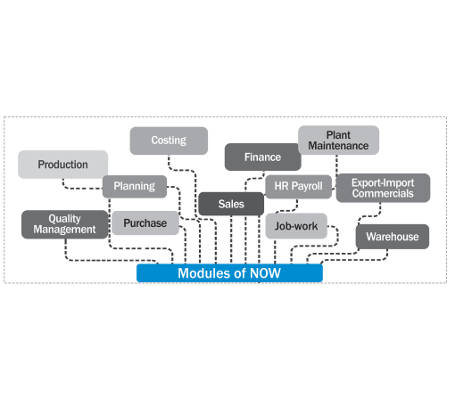 NOW ERP
The solution covers the following modules:
• Base module
• Sales module
• Procurement module
• Planning
• Production module
• External order/Job work module
• Inventory/warehousing
• HR payroll
• Costing
• Finance
• Quality management
• Plant maintenance
Manufactured by: Datatex A.G., Switzerland
FEATURES

BENEFITS

GET A QUOTE
Can accommodate industry-specific requirements (product definition, planning, patterns, recipe, multi-level BoM and routing, and stock management)
Business processes driven by master/transaction, configured workflows
User friendly access having pre-defined dashboards to avoid redundant data entry
Can integrate with all machines/third party systems
Seamless traceability of system transactions across business cycle
Platform independent, technically mature, future-ready ERP
Helps in on time delivery
Minimum WIP and inventory
Control costs across all the business transactions
Minimise wastage
Optimise machine utilisation
Reduction in obsolete stocks
Access of business transactions from a single login
Your message was sent successfully. Thanks.