KARL MAYER's Nov-O-Matic (NOM) automatic sectional warping machine is an economic alternative for the production of high quality short warp.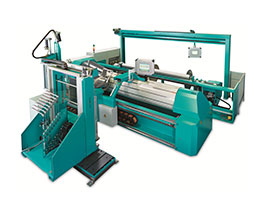 Nov-O-Matic NOM
(Automatic sectional warper for short and long warp length)
An automatic leasing function (freely selectable) with up to 7 size separation lease guarantees a wide range of applications. A laser-controlled band build-up provides identical band circumferences and section-trolley feed without correction stops. The highly effective end break detector ensure optimal processing with superior efficiency on the weaving machine.
Manufactured by: KARL MAYER, Germany
FEATURES

BENEFITS

RESOURCES

GET A QUOTE
Technical Details
Application range: shirting, worsted, silk, bottom weights, home textiles, and apparels
Key Features
KAMCOS SYSTEM - operator interface IPC/touch screen 12.1", ethernet interface for networking and connection for the relevant data acquisition and tele-service
Compact beaming device for easier operation
Computer and laser-controlled band-build-up - real time measurement from the first to the last section with central yarn tension control for perfect weaving beams
Shed opener and control - for secure and fast leasing
Smaller warping drum 600 mm dia for faster positioning/breaking
Automatic leasing and section-changeover
Genuine leasing cord automatically inserted, reduced manual handling before beaming operation
Working width range available: 2200 mm and 3600 mm
Maximum warping speed: 1000 m/min
Maximum beaming speed: 200 m/min
Reduced section change and leasing time compared to conventional sectional warping machines
Robotic operation in section change and leasing ensures high productivity
Guarantees efficient production combined with the highest warp quality
High quality warps as a result of laser-monitored circumferential control in association with layer thickness control
Your message was sent successfully. Thanks.