KARL MAYER's GOM 16S sample warping machine sets new standards in producing yardages and sample warps.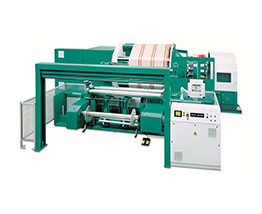 Gir-O-Matic 16S Sample Warper
(Sample warper)
KARL MAYER GOM 16S sample warping machine sets new standards in the warp preparation for sample and production warps up to a warping length of 490 m. A circular creel with 16 winding places guarantees highest efficiency for coloured and solid warps. The unique and patented build-up control provides a perfect build-up of the band.
Manufactured by: KARL MAYER, Germany

FEATURES

BENEFITS

RESOURCES

GET A QUOTE
Technical Details
Application range: shirting, suiting, worsted, silk, home textiles, and apparels
Key Features
KAMCOS SYSTEM operator Interface IPC/touch screen 12.1", ethernet interface for networking and connection for the relevant data acquisition and teleservice
Processing of silk package and super fine yarns
Software offers highest convenience of data input and operation
Patented band build-up system guarantees identical bands also with highly delicate yarns
Leasing: one or two at beginning and same at the end
High flexibility and productivity with patterning for perfect beam quality
Highly efficient production of sample warps and short production warps (reduced time, space, personnel, stock)
Computer control of all operations including data analysis (network compatible)
Simple pattern design; input also via an external PC or CAD system possible
Unlimited number of sampling possibilities
Your message was sent successfully. Thanks.