Modern systems and range modules for continuous dyeing and finishing from Monforts.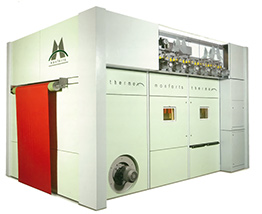 MXL
(Moist cross linking process – easy care finish)
Monforts MXL range follows the Monforts MXL process that produces quick, reliable results as compared to the conventional cross-linking processes. This new moist cross-linking technology functionalises 100 percent cotton fabric with the anti-crease effect or easy care effect (non-iron/easy to iron) through textile finishing.
Manufactured by: A. Monforts Textilmaschien GmbH & Co. KG, Germany
FEATURES

BENEFITS

RESOURCES

GET A QUOTE
Key Features
Thermex with options for B and C type hotflues for different cloth content
Inlet combinations with guiding devices and tension control systems
Finishing padder Matex
Wetting device for the ADD ON procedure
Hotflue thermex with suitable cloth content, air circulation and guiding devices
Exhaust and residual humidity controls
Qualitex 750 for machine control and settting paramaters
Outlet combination with cooling cylinders, controllers, plaiter or batcher
Monforts MXL process - greatly reduced processing time
Reproducible quality with quick pay back
Your message was sent successfully. Thanks.