The best in class continuous dyeing of reactive dyes on cotton with e-control that not only gives quality but also quick payback.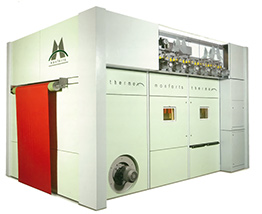 Thermex 7000
(E-control dyeing range)
This machine is based on modular design, shortest commissioning times, uniform air delivery, high effective insulation for reduced thermal energy consumption and crease-free fabric passage for wovens as well as knits. Also suitable for e-control for continuous dyeing of woven/knitted fabrics with reactive dyes. Thermex 7000 is a loop dryer offered by Monforts with variable roller pitch to benefit the user in terms of process optimisation speed for different conditions of fabrics run.
Manufactured by: A. Monforts Textilmaschinen GmbH & Co, Germany
FEATURES

BENEFITS

RESOURCES

GET A QUOTE
Key Features
Thermo-cut system to protect migration of the dye in the selvedge area
Chamber construction for uniform airflow and temperature
Infra red pre-dryers (electrical or gas heated) with high evaporation efficiency, variable radiation intensity, constant output with high operational safety and low maintenance
Tangential airflow across the whole fabric width for uniform fabric finish and drying
All heating systems including indirect gas heating system – exothermic
Thermo stretching for denim to control skew with low stretch and less fabric tension
Modular design to suit customer needs
Quick cleaning system (optional)
Dyeing time is only 2-3 minutes
Zero consumption of salt, sodium silicate, and urea
Instant shade viewing possibility
Better color yield due to less hydrolisation of reactive dyes as there is no process of stronger alkali
Suitable for shorter to longer fabric runs
Reduces pollution load
Your message was sent successfully. Thanks.