Mahlo's CoatControl CWS can be used wherever a QMS control system is used to continuously monitor online the weight of a coating applied to a product, and the installation's coating or application mechanism allows automatic control of either the mean weight of coating, or even left/right distribution.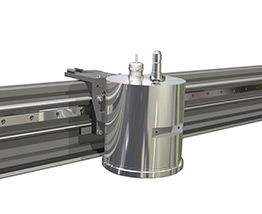 CoatControl CWS Coat Weight Control System
Mahlo's CoatControl CWS accurately measures the weight of a coat being applied to an online product. In addition to traditional lick roller mechanisms, the Mahlo CoatControl CWS can also control calenders to regulate cross-sheet thickness. To enable it to do so, the coating mechanism must be equipped with suitable actuators and servo drives which can be controlled by electrical impulses. Usually, the CoatControl CWS controls directly the servo motor fitted to the coating mechanism or calender.
Manufactured by: Mahlo GmbH & Co. KG., Germany
FEATURES

BENEFITS

RESOURCES

GET A QUOTE
Key Features
Control parameters individually adapted to suit the coating mechanism
Operated via the the touch screen interface of the QMS control system
Fully automatic reduction of repetitive errors in cross sheet coating thickness
Minimal hardware expenditure
Significant improvement in the quality of the end product permits higher selling price
Instant control ensures a minimum loss of production when changing batches
Considerable savings in raw material owing to a minimum of set-point errors
Minimal intervention by operating personnel
Automatic reduction of operator errors as a result of closed-loop control
Your message was sent successfully. Thanks.