KARL MAYER's LCB ensures superior rope yarn opening performance with even tension.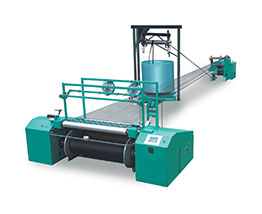 Long Chain Beamer (LCB)
(Long chain beamer for converting ball to sheet for rope indigo dyeing)
KARL MAYER LCB is designed to provide superior yarn opening performance. The LCB is designed to be durable and dependable. The computer control system provides smooth and perfectly cylindrical yarn laps.
Manufactured by: Karl Mayer, Germany
FEATURES

BENEFITS

RESOURCES

GET A QUOTE
Technical Details
Application range: rope indigo dyeing
Key Features
DNC KAMCOS SYSTEM operator interface IPC/touch screen 12.1", ethernet interface for networking and connection for the relevant data acquisition and tele-service
Real-time yarn tension control during the entire process due to compensator regulation
Meter counting: measuring accurate ball length with automatic stopping for lease insertions
Reversing accumulator allows for infinite reversing to allow repair of broken end in the yarn sheet
Knot sensor: detects any knots and tangles formed in the rope
Braking device: guarantees a synchronized stopping of the equipment
Single-end winder (optional): to produce makeup packages
TUB turner (optional): allows the operator to reduce or eliminate twist in the rope
Presser roller device (optional): for perfect cylindrical beam with increased capacity
Robust beaming structure
Blowing device at expansion reed improves weaving efficiency
Yarn strummer (optional): a device that supports in the opening of the rope for increased efficiency
Operating speed: up to 500 m/min
Perfect warp tension control due to feeding device and programmable yarn sheet tension
About 20 to 25 percent more efficient than any other design ever produced for the denim market
Your message was sent successfully. Thanks.