A semi-automatic centrifugal extractor suitable to eliminate excess water from all types of yarn packages after dyeing.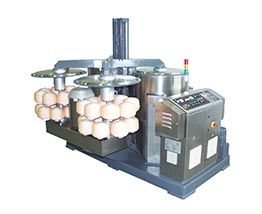 RZT
(High efficiency package hydroextractor)
This adept dryer has a high rotation speed that ensures a very low and uniformly distributed residual moisture content, thus reducing the overall drying cost and improving the final product quality. A PLC control system ensures the whole operation is automatic until the end of each hydroextraction cycle, when the final moisture content is up to the desired level. The unique anti-vibration design ensures smooth rotation of the baskets without unbalancing it.
Manufactured by: Stalam (Shanghai) Deyi Machinery Manufacturing Co.,Ltd.,China
FEATURES

BENEFITS

RESOURCES

GET A QUOTE
Key Features
Fully automatic with PLC controlled
Twin basket system with AISI 304 ss
Rotation and breaking controlled by digital invertors
Cast iron basement
4 rotating package holders with individual arms
Hydraulic lifting/lowering system of the package holders
Package holders equipped with oil pump
Stainless steel control box
Easy installation as no foundation required
High productivity
Separate holder for each package prevents any damage to the yarn
Uniform dyeing
Your message was sent successfully. Thanks.