The Smit 2FAST achieves the best fabric construction at high speeds with the low yarn stress. The 2FAST allows manufacturers to change the article quickly, easily access the front of the machine thanks to good ergonomics, and saves space due to its compact design. Designed for robustness, the 2FAST has low spare parts consumption and long machine life.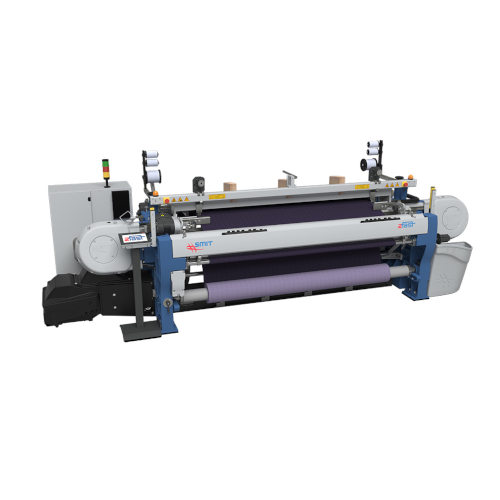 2FAST
(Flexible Advanced Shuttle-less Technology)
The Smit 2FAST is a high speed, shuttle-less rapier loom in which the filling/weft yarn is carried through the shed of warp yarns to the other side of the loom by two finger-like carriers called rapiers. The rapiers are mounted on flexible flying-ribbons, which exchange the weft in the centre. This enables the 2FAST to operate at speeds of up to 1650 m/min, depending on the style and machine width. The 2FAST is a good mix between low maintenance costs, high productivity, low energy consumption, and features Industry 4.0 compatibility.
Manufactured by Smit S.r.l, Italy
FEATURES

BENEFITS

RESOURCES

GET A QUOTE
Key Features
Custom-made self-retaining grippers which are easily adjustable and remain stable while weaving
Free Flight Ribbons System without ribbon guide hooks; ensures a "clean shed"
New short mechanical transmission with low energy consumption
High efficiency brushless motor with permanent magnets with high power factor and low heat generation
Balance shaft for stable running - counter-rotating main shaft and cam shaft, with optimised transmission ratio, to minimise the torsional loads transmitted to the structure during rush start and stop
New and optimised distribution of masses to ensure the greatest stability and the most effective reduction of dynamic load on the floor
Frame stiffness +20%
Low centre of gravity and compacted machine external width ensures increased stability and reduced vibrations at high speed
Easy accessibility for the weaver enables quick intervention if need be
Benefits
Optimised shed geometry ensures perfect fabric construction and high efficiency
Compact design; space saving in the weaving department
Grippers ensure top efficiency while transferring any type of yarn
Low energy consumption and high running consistency
Direct drive reduces energy consumption
Your message was sent successfully. Thanks.