The EleStretch XT electronic lea strength tester determines the peak breaking force and elongation of yarn in skein form (lea) having 1.5 yards girth. Ergonomically designed table top model having rugged steel body construction.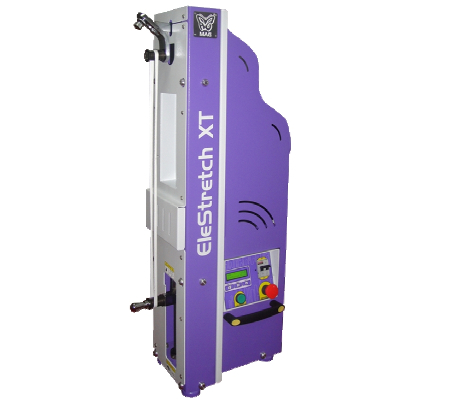 EleStretch XT
(Lea skin strength testing)
Strength is a measure of the steady force necessary to break a material. The Elestretch XT is an electronic device which tests the strength of a lea skein. With an ergonomic design and user-friendly user interface, the EleStretch XT also has a rugged steel body construction and operates under the standard CRE (Constant Rate of Extention) principle. Its maintenance-free inline drive system is designed for quiet and trouble-free operation.
Manufactured by: MAG Solvics Private Limited, India
FEATURES

BENEFITS

RESOURCES

GET A QUOTE
Key Features
RoHS compliant, ensures CE norms
Selectable force unit: lbf, Kgf and Nf; selectable elongation unit: mm, inch and percentage
Computer connectivity port for data transfer and presentation
Operating under standard CRE (Constant Rate of Extension) principle
Maintenance-free inline drive system for quiet and trouble-free operation.
Proven clutch driven tongue follower traverse mechanism for easy sample handling and testing operation.
State-of-art microcomputer controlled solid-state control circuitry with user-friendly menu driven operating system and alphanumeric LCD display screen.
Your message was sent successfully. Thanks.