Long tube ' L' shaped soft flow dyeing machine with facility for running fabrics in either 1 or 2 ropes per tube.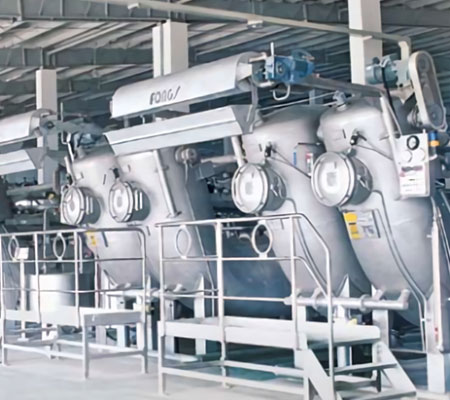 ECO-8
(Multi rope soft dyeing machine)
The ECO-8 is a long L shape machine that handles the fabric very gently. Depending on the design of the fabric conveyance system, the three series of models are able to run fabrics in one, two or three ropes per tube. A wide range of machine models are available to process very heavy and very light fabrics, such as piles and single jersey respectively. Also by incorporating the advanced automatic control devices, Multi-function Stock Tank (MST) and control software, the ECO-8-SR with super functions allows the shortest dyeing time to only 298 minutes. The total water consumption is as low as 38 l/kg. The highly efficient and cost effective ECO-8 provides the competitive edge to meet ever-changing market demands. With the use of advanced polymeric material, the ECO-8 maintains among its types the extra low liquid ratio of 1:6 at a maximum tube capacity up to 550 kg.
Manufactured by: The Fong's Industries Group, Hong Kong
FEATURES

BENEFITS

RESOURCES

GET A QUOTE
Technical Details
Liquor ratio: 1:6
Maximum speed: from 250-400 m/min depending on machine type
Design temperature: 140°C+
Design pressure: 3.5 bar
Heating rate: 25°C-100°C, average 5°C/min; 100°C-130°C average 2.5°C/min (dry saturated steam pressure at 7 bar)
Cooling rate: 130°C-100°C average 3°C/min 100°C-85°C, average 2°C/min (cooling water at 3 bar, 25°C)
Key Features
Machine body and major parts wetted by dyeing liquid are made of 316Ti/316L/1.4571/1.4404/2304 corrosion resistant stainless steel
Highly efficient stainless steel centrifugal pump
Lifter reel driven by frequency inverter controlled gear reduction motor
ATS Nozzle
Automatic fabric upper tangling release device
Pneumatic control valves for heating and cooling, with fuzzy logic temperature control function
Pneumatic valves for fill, drain and overflow rinse function
Internal spray cleaning device
Highly efficient tubular heat exchanger
Pressurising and depressurising system for main kier level indicator with level sensor
Service tank with feed pump, valves, stirring function and dosing control with high precision flow control device take off roller
Multi-core control cable
Service platform with FRC plank grating
Main control cabinet with FC28 program controller
Multi-Saving Rinsing System (MSR)
Dyeing time as short as 316 minutes
Less water and energy consumption
Less effluent
Minimal human intervention
Constant liquor ratio
Accurate dosing control
Advanced drop bath technique without stopping the machine
Your message was sent successfully. Thanks.