LOTUS is a combination of THEN's Airflow technology and long-tube design for superior dyeing results at lowest liquor ratio. It gives exceptional fabric quality and significant savings in water, power, and steam.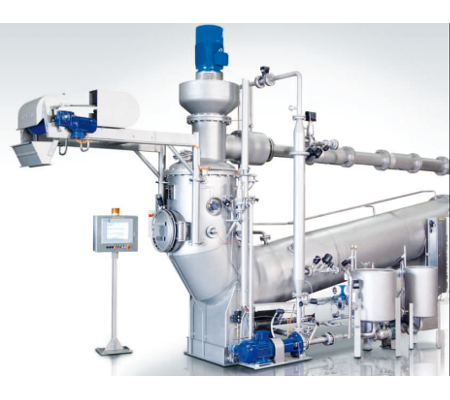 LOTUS
(For sensitive synthetic knitted fabric dyeing)
LOTUS is the world's first long-tube to operate according to the original aerodynamic principle machine. It has transgressed the traditional boundaries of jet piece dyeing, enabling even extremely sensitive fabrics hitherto confined to beam dyeing to be processed with dramatically improved productivity and economy.The result: outstanding quality with minimum water consumption. LOTUS unites all the sensitive articles, no matter if cellulose, man-made or blends. The unique combination of long-tube treatment and Airflow technology is the best match for all articles, so far limited to beam dyeing. LOTUS handles lightweight and delicate fabrics in finest yarn counts. LOTUS offers the versatility that inspires innovative textile solutions, meeting top-grade quality standards and achieving significant savings of precious water and heating energy resources and thus, a big step towards green innovation.
Manufactured by: THEN Maschinen GmbH, Germany
FEATURES

BENEFITS

RESOURCES

GET A QUOTE
Technical Details
Operating temperature: maximum 140°C at 3 bar
Liquor carrying parts in special steel: 1.4571/1.4404 (AISI 316 Ti / 316 L)
Key Features
Works on aerodynamic principle
Newly designed dome blowers
Long-tube design
Gentle PTFE bottom rods
Liquor ratios for dyeing as low as 1:2
Specialy designed plaiter
Nearly all fabric contact parts are teflon
Low water consumption
High elastene content fabric can be handled with ease
Less pressure on the package
Smoth transport in the chamber
Reduced liquor ratio
Improved productivity
Your message was sent successfully. Thanks.