The 2nd generation with significant increase in loading resulting in the highest productivity and the ability to process the widest range of fabrics.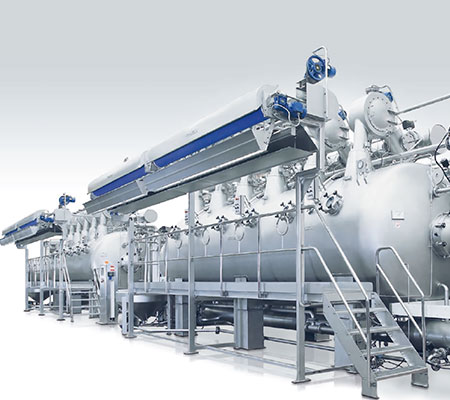 SYNERGY G2
(Piece dyeing)
The SYNERGY G2 is based on the tried and tested technology of the successful THEN- airflow system. Accordingly, the use of proven advantages and the creation of additional innovative features has resulted in the best ever piece dyeing machine. The SYNERGY G2 dyeing machine which, apart from a high load per strand, also provides further sizeable reductions in water and energy consumption. In other words, it is a top product from both a cost efficiency and ecological standpoint. The modular system of the THEN-airflow synergy allows tailor-made machine configurations, which guarantees maximum efficiency. The SYNERGY G2 further reduces water consumption by 20 percent and at the same time provides corresponding energy savings. No other piece dyeing machine in the market can successfully and economically dye such a wide range of fabrics. The patented aerodynamic system is based on the principle that the fabric transport is affected by air only, which means that as opposed to a hydraulic dyeing machine, no dye liquor or aqueous medium is required to transport the fabric.
Manufactured by: THEN Maschinen GmbH, Germany
FEATURES

BENEFITS

RESOURCES

GET A QUOTE
Technical Details
Operating temperature: maximum 140°C at 3 bar
Liquor carrying parts in special steel 1.4571/1.4404 (AISI 316 Ti / 316 L)
Key Features
Different modules for different applications
Salt pouring device suitable for pourable common salt or Glauber's salt
Increased load sizes for both heavyweight and lightweight fabrics combined with best running conditions are achieved by the variable loading chamber
Based on THEN AIRFLOW technology
Unsurpassed reproducibility
Reduction in the nominal liquor ratio
Process time reduction
Right first time (dyeing rates of up to 98 percent)
Your message was sent successfully. Thanks.