Hi-tech KARL MAYER creels with specially designed tensioners are capable of producing warps from high-tensile technical yarns, such as glass or aramid. These Creels are to provide high tension levels while ensuring gentle handling of material, with maximum efficiency, and top quality during warping.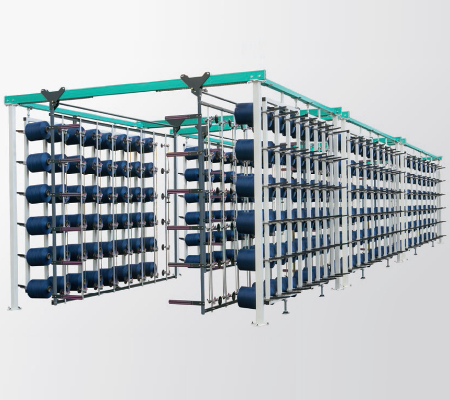 Creel for Technical Yarns
The Creel is an integral part of warping machine which holds a number of yarn bobbins to produce beams. KARL MAYER's world-renowned creels are available for all type of yarns for all applications.
Manufactured by: KARL MAYER, Germany
FEATURES

BENEFITS

GET A QUOTE
Technical Details
Raw material: cotton, rayon, man-made fibers (kevlar, carbon, etc.), and their blends
Key Features
Parallel creel (H creel) available in GW wagon type, GD swivel type, GM magazine type, and GF fixed type
Accutense (hystresis tensioner) - fine glass filaments and monofilaments, universally applicable for all yarns that are negatively affected by friction
KFD tensioner - universal tensioner for technical and coarser yarns
Multitens tension system guarantees thread tension uniformity from the thread to thread by precise measurement and regulation to the tension set point for each individual end
Dynatense - for aramid, glass, and industrial yarns
Megatens tensioner - for all yarns from very fine to middle yarn material with the exception of some glass and aramid fibre yarn
FilGard stop motion - very short reaction time
Rototense - high flexibility for different yarns
ISOTENS - meets highest demands in ergonomics and reliability; best suited for filament and spun yarn
Wide range of tensioners for all applications in filament industries
Highly flexible creel system for the processing of monofilament yarns, polypropylene film tapes, highly resistant polyester/polyamide yarns for the carpet industry, glass-fibre yarns, etc.
Your message was sent successfully. Thanks.