Trützschler Airlay EHAL for the aerodynamic web forming process that allows web formation with maximum isotropy.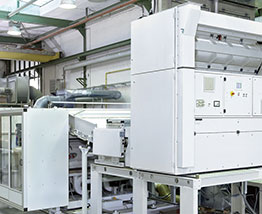 Airlay EHAL
Airlay EHAL allows web formation with maximum isotropy. Airlay stands for highest possible flexibility during web formation – suctioning onto a perforated roll – covers a large weight range and different types of fibres. Other benefits of airlay are trouble-free processing of waste fibres, and high energy efficiency since air consumption is based on actual requirement.
Manufactured by: Trützschler Nonwovens and Man-made Fibres GmbH, Germany
FEATURES

BENEFITS

RESOURCES

GET A QUOTE
Technical Details
Application range: for drylaid high loft webs of natural and man-made fibres
Key Features
Precision feed system
Adjustable suction drum
Optimised air circulation
Better opening by controlled fibre transfer
Adjustable loft for different end use for same GSM
Metal detection at feed roll to avoid the damage
Operator and maintenance friendly
Less filter capacity and therefore, lower energy consumption
Easy maintenance and cleaning
Your message was sent successfully. Thanks.