Trützschler EK150 roller clearer card is available in six different basic machine types with working widths of up to 5500 mm, and three different doffing systems, which can be combined with each other.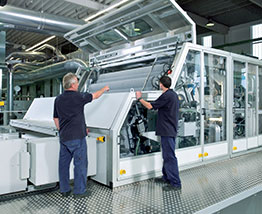 EK150 Roller Clearer Card
The EK150 roller clearer card has six different basic machine types (with varying working widths) and three different doffing systems (parallel fleece, random roller, condensed roller). Plus there are various special machines that adapt perfectly to any production requirements. At the same time, these roller cards have extremely clean take-off systems, specially adjusted TCC clothings and excellent maintainability due to optimal accessibility.
Manufactured by: Trützschler Nonwovens and Man-made Fibres GmbH, Germany
FEATURES

BENEFITS

RESOURCES

GET A QUOTE
Technical Details
Application range: for drylaid webs of natural and man-made fibres
Key Features
Quick parallel web to condensed web
Opening and closing of the card in 30 minutes
Precision Feed System and rollers
Easy maintenance and cleaning
Integrated suction system and direct air conditioning
Better opening by controlled fiber transfer
Less downtime
Operator and maintenance friendly
Metal detection at feed roll to avoid the damage of card clothing
Your message was sent successfully. Thanks.