Trützschler Random Card EWK 413 is a special roller card with random web technology that is particularly well suited for subsequent spunlacing. It allows a high random layer thus resulting in fluffy, soft nonwovens, especially when processing cotton. The use of two different roll diameters reduces clothing change but still allows large variability in web weight.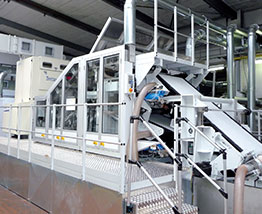 EWK413 Random Card
Trützschler Card EWK 413 is a high performance card with throughputs of more than 400 kg per hour, per metre of working width, for various fibres and grammages. With double-sided carding and circulation blending, the EWK 413 ensures unsurpassed product qualities.
Manufactured by: Trützschler Nonwovens and Man-made Fibres GmbH, Germany
FEATURES

BENEFITS

RESOURCES

GET A QUOTE
Technical Details
Application range: for drylaid webs of natural and man-made fibres
Key Features
Quick change from parallel to condensed web and vice versa
Precision Feed System
Opening and closing of the card in 30 minutes
Rollers of high precision
Integrated suction system and direct air conditioning
Operator and maintenance friendly
Less downtime
Better opening by controlled fibre transfer
Metal detection at feed roll to avoid the damage of card clothing
Easy maintenance and cleaning
Your message was sent successfully. Thanks.