High speed knitting HKS COP tricot warp knitting machinery from KARL MAYER for the manufacture of rigid and elastic tricot fabrics.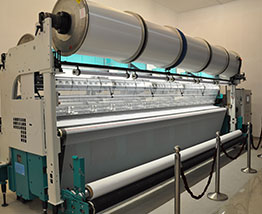 Tricot Warp Knitting Machines
Combining high production speed and outstanding flexibility, and based on the precise tuning of knitting motion and knitting elements, this 3-bar, high-performance tricot machine is suitable for a wide range of textiles. Besides, being equipped with an extra-fine compound needle system, the HKS 3-1 produces structures showing a delicate and uniform loop appearance. When fitted with an elastane device and an elastic batcher, the higher machine gauges of this type are highly efficient at manufacturing sophisticated elastic articles. In this way, an efficient production of elastic and rigid textiles with small patterns or structures becomes possible.
Manufactured by: KARL MAYER
FEATURES

BENEFITS

GET A QUOTE
Technical Details
Machine models available: HKS 2-SE, HKS 2-M, HKS 2-S, TM 2, HKS 3 S, HKS 3-M, HKS 3-M-ON, HKS 3 M-P, TM 3, HKS 4-M (EL), HKS 4-M-P (EL), TM 4, TM 4-EL, TM 4 T, TM 4 T-EL, TM 4 TS-EL, TMJ 4/1-T, COP 5-M-EL, WEFT.FASHION TM 3
Application range: automotive textiles, home textiles, lingerie, mosquito nets, lightweight coating substrates, sportswear/swimwear, lining fabrics, outerwear, etc.
Speed up to 4400 RPM
Gauge up to 50
Width up to 220 inches
Key Features
4 bars machines also available in electronic pattern change
Versatile and high output machine
Low maintenance
Less working cost
Possible to produce high elastic and very fine fabrics
Your message was sent successfully. Thanks.