High production raschel knitting machine from KARL MAYER for the manufacture of high-quality, textured elastic and rigid fabric types for a wide range of applications.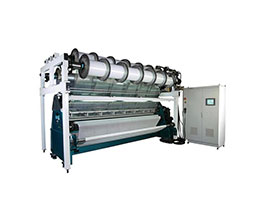 Raschel Knitting Machines
KARL MAYER's range of raschel knitting machines are high perfomance machines which can be used for the manufacturing of a wide variety of nets which are durable and reliable in their quality. These machines are easy to operate and maintain, with very low energy consumption. They produce knotless nets, perfect for its respective applications.
Manufactured by: KARL MAYER
FEATURES

BENEFITS

GET A QUOTE
Technical Details
Application range: shade nets, fish nets, wind breakers, hail nets, bird protection nets for vineyards, fruit and vegetable culturing, bale wrap and paletting nets, harvesting and cultivating nets, packaging nets, protecting/safety nets, sports nets, etc.
Key Features
High speed machines
Precise knitting elements
High quality of net production
Easy operation
High efficiency
Low maintainence
Robust, high-speed machine
Your message was sent successfully. Thanks.