Extensive range of tensile strength and elongation can be measured on this instrument like tenacity, breaking force, breaking elongation, time to break, breaking work, part work done and modulus values.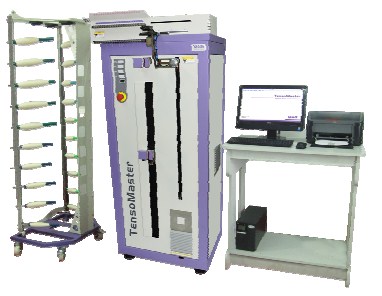 TensoMaster
(Automatic single yarn strength tester)
The ergonomically designed equipment, with rugged construction, works on CRE principle. It can accommodate 20 samples with automatic yarn changer.
Manufactured by: MAG Solvics Private Limited, India
FEATURES

BENEFITS

RESOURCES

GET A QUOTE
Key Features
Selectable elongation unit: mm, inch and percentage
Built-in self-diagnostic test facility
Selectable force unit: gf, lbf, Kgf, Nf and cN
Automatic and quick returning of lower jaw to home position after completion of each test
State-of-art microcomputer controlled solid-state control circuitry
Testing speed: up to 5000 mm/min
50 kg load cell for better accuracy
Numerical results: breaking force, elongation, RKM, time to break and work done
Graphical results: force-elongation curve, stroke diagram and frequency distribution curve
Higher speeds and automatic lower jaw return help in faster tests
Elongation range: 500 percent for 200 mm sample length; 100 percent for 500 mm sample length
Your message was sent successfully. Thanks.