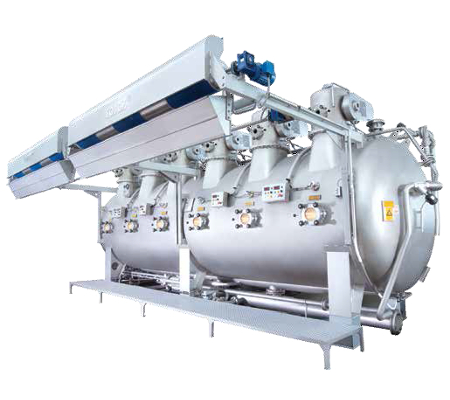 TEC Series High Temperature dyeing machines
The TEC series of high temperature dyeing machines are efficient, eco-friendly, and are manufactured from high quality, international standard 316Ti/1.4571 stainless steel. With different capacities ranging from 1 to 12 tubes, these machines run liquor ratios down to 1:1.4 (excluding pick-up of fabric). The TEC HT dyeing machines save energy and time through various control and rinsing technologies. Integrated intelligent rinsing control replaces manual sampling during rinsing, and eliminates the need to determine rinsing time by experience. With monitoring of both residual colour and conductivity of liquor discharged during rinsing, the amount of water consumption can be accurately determined, and the degree of reproducibility greatly improved.
FEATURES

BENEFITS

GET A QUOTE
Key Features
Integrated intelligent rinsing automation
Monitoring of residual colour and conductivity of liquor discharged during rinsing
Accurately measure water consumption
Fuzzy logic temperature control
Capable of dyeing high density, crease-intensive fabrics, dye sensitive fabrics such as micro modal and viscose, as well as synthetic and blended fibres
Lint collector automatically filters, accumulates, and discharges lint.
Reduced labour effort and maintenance, thereby reducing production time
High reproducibility
Reduced water consumption
Reduced energy, production, and drainage costs
Enhanced efficiency
Reduces defect rate when dyeing sensitive colours
Your message was sent successfully. Thanks.