The Tec 38 series of atmospheric dyeing machines with Integrated Intelligent Rinsing (IIR) are designed for customers who seek a high degree of automation so as to eliminate manual sampling during rinsing or determining rinsing time by experience. The Tec 38 monitors both the residual colour and conductivity of liquor discharged during rinsing, accurately determines water consumption for rinsing, and ensures a high degree of reproducibility.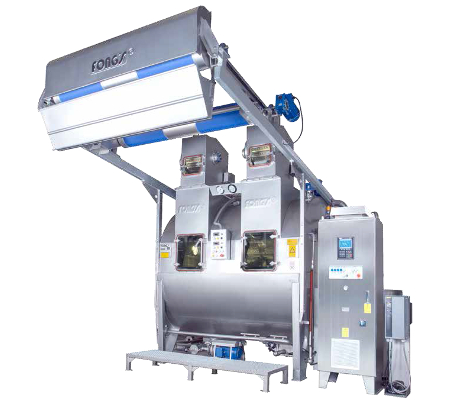 TEC 38 Atmospheric Dyeing Machine
The advanced TEC 38 series of atmospheric dyeing machines have individual controls on separate tubes and motors to optimize reel flexibility to enchance dyeing quality. Built with 316L/1.4404 stainless steel, the robust TEC 38 Series is suitable for all kinds of cotton fabrics. Its individually operated motors allow flexible control in increasing roller speeds for separate tubes. Such speed adjustment ensures similar fabric cycle time, which reduces tube variation and improves dyeing consistency.
Manufactured by: Fong's National Engineering Co., Ltd., China
FEATURES

BENEFITS

GET A QUOTE
Technical Details
Running liquor ratio down to 1:1.1 (excluding pick-up of fabric)
Design temperature: 98°C
Design pressure : atmospheric
Heating gradient : 25°C ~ 98°C approx. 5°C/min (dry saturated steam pressure at 7bar)
Cooling gradient : 98°C ~ 80°C approx. 2°C/min (cooling water at 3bar, 25°C)
Key Features
Integrated Intelligent Rinsing (IIR) with AIR+: Advanced Intelligent Rinsing
Enhanced efficiency: any slight changes are clearly shown in real time for analysis, making the drainage progress more organized
Vertical LSD Pump: Low suction design lowers the liquor ratio; internal filter effectively extends lifespan
Second service door: allows clear observation of fabric circulation and convenience in maintenance
Vertical hot water stock tank (HST) and Vertical multi-function stock tank (MST)
Variable loading adjuster
Salt dissolving tank
Lint collector (TEC3) automatically filters, accumulates and discharges lint. Production time could be saved without excess labor effort and scheduled maintenance
Vertical heat exchanger: effectively drains condensates and dye liquor, reduces medium exchange time, prevents flow and scaling problems, enhances durability
Your message was sent successfully. Thanks.