ALLFIT is designed for medium batches and is available in different machine sizes.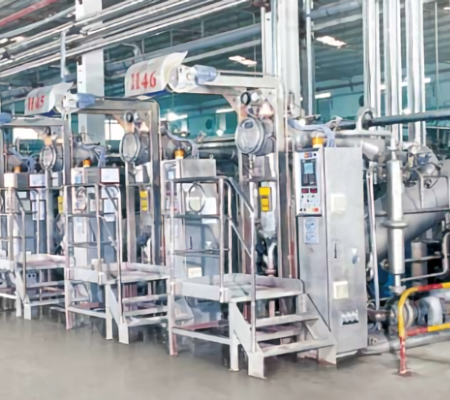 ALLFIT
(Medium batch dyeing machine)
AllFit is a piece dyeing machine designed for medium batches. Designed to develop new process techniques, it can easily be transferred to the bulk machine. Low liquor ratio, low power consumption and fast fabric run ensure the dyeing quality and result. Different dyeing recipes and processing techniques can be applied without modification.The liquor ratio and fabric circulation time are similar to that of the production machine, such that the recipe developed on it can be adopted directly. At present, there are more than 2000 ALLFITs running in dyehouses around the globe.
Manufactured by: Fong's National Engineering Co., Ltd., Hong Kong
FEATURES

BENEFITS

RESOURCES

GET A QUOTE
Technical Details
Design temperature: 140°C
Design pressure: 3.5 bar
Liquor ratio: down to 1:4.5
Lifter reel speed: 7-200 m/min (applicable to specific model only)
Heating gradient: 25°C-100 °C approx. 5°C/min 100°C-130°C approx. 2.5°C/min (dry saturated steam pressure at 7 bar)
Cooling gradient: 130°C-100°C approx. 3°C/min; 100°C-80°C approx. 2°C/min (cooling water at 3 bar, 25°C)
Key Features
Advanced process control and automation applicable to production
Machine body and major wetted parts by dye liquor made of 316Ti/316L
Heavy duty stainless steel pump, frequncy inverter controlled
Highly efficient steam heat exchanger
Fuzzy logic temperature control software
Lifter reel driven by frequency inverter controlled motor
Main control cabinet with FC30 programm controller
Suitable for both atmospheric and high temperature dyeing machine
Accurately reproduces dyeing results
Saves production cost and is environmental friendly
Installation of the machine is easy and simple
Your message was sent successfully. Thanks.