The KARL MAYER ISOSIZE ensures optimal sizing that in turn, enhances the weavability of warp yarn. By applying uniform protective film on the warp yarn to improve the abrasion resistance and tensile strength, the ISOSIZE minimizes warp breakages, loss in elongation, and fluff generation during weaving process.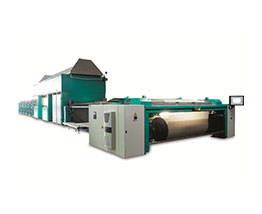 ISOSIZE Sizing Machine
(Sizing machine for staple fibres)
KARL MAYER sizing machines are characterized by highly-convenient operation and perfect process control. Combination size boxes with and without pre-wetting devices guarantee short yarn paths. Cylinder driers in different arrangements that are partially teflon coated guarantee a quick drying process of the sizing material along with a gentle yarn treatment.
Manufactured by: KARL MAYER, Germany
FEATURES

BENEFITS

RESOURCES

GET A QUOTE
Technical Details
Application range: grey, shirting, bottom weights, home textiles, terry, denim, and apparels
Key Features
Beam creel with shaftless beam supports
KAMCOS SYSTEM operator interface IPC/touch screen 12.1", ethernet interface for networking and connection for the relevant data acquisition and teleservice
Cylinder dryers designed according to the type of warp and required production volume
Special rubberised roller with embedded glass beads on surface ensure required size pickup
Yarn control can be carried out with tension as well as stretch to achieve higher weavability
Compact size box (CSB) with double dip and double nip principle ensures perfect sizing
Ergonomic design of beam headstock for fast and safe access
Can be tailor-made as per customers' need
Maximum speed: 125 m/min
High reproducibility with simple attendance, automatic monitoring of all parameters and comprehensive recipe management
New size box helps to reduce maintenance time and size ingredients consumption
ISOSIZE ensures uniformly optimal sizing, low hairiness, and elongation which makes it perfect for high speed weaving machines
Your message was sent successfully. Thanks.