This robust, high speed double needle bar machine from KARL MAYER is suitable for the manufacturing of three dimensional / spacer fabrics, plush fabrics, seamless fabrics, high-distance spacer, and blanket fabrics. Available with or without jacquard.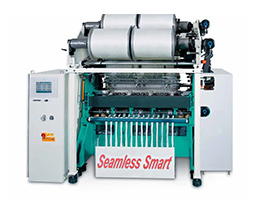 Double Needle Bar Raschel Warp Knitting Machine
Developed to produce versatile knitted structures,the raschel double needle bar machine features a built-in piezo jacquard system that is capable of joining thick sectional fabric structures smoothly and seamlessly. Variations of Jacquard structures have been enhanced to allow free pattern designs and to ensure production of homogeneous and beautiful products comprising a mixture of thick and thin fabrics. Application of this technology can produce cylindrical goods up to almost complete products that have minimal sewing process requirements. Considerably improved pattern effect presents the production of a variety of products ranging from innerwear such as seamless foundation wear and pantyhose up to outerwear.
Manufactured by: KARL MAYER
FEATURES

BENEFITS

GET A QUOTE
Technical Details
Application range: mattresses, automotive textiles, helmets, sports jackets, shoe fabrics, shoulder pads, protective clothing, bandages/medical textiles, thermal mats, etc.
Key Features
Robust, high-speed machine
Precise knitting elements
High quality of net production
Easy operation
High efficiency
Low maintainence
Your message was sent successfully. Thanks.