High performance direct warping machine from KARL MAYER for tape and filament yarns with GAPP unrolling creel.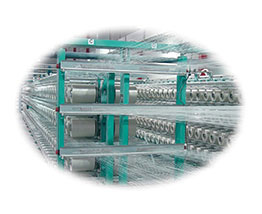 Poly Beamer
(Direct warping machine for tape and filament yarns with GAPP unrolling creel)
KARL MAYER Rotal beaming machines work from creel and are able to meet the highest standards of various textile industry sectors. Highly flexible creel systems for the processing of monofilament yarns, polypropylene film tapes, highly resistant polyester/polyamide yarns for the carpet industry, as well as glass-fibre yarns can be processed. The two drives on the beaming machine – one for the trio rollers and one for the warp beam – guarantee regular yarn tensile strengths for all yarn types. Speeds of between 5 and 400 m/min ensures high efficiency. Users can choose yarn tensile strengths of between 5000 and 13,000 N (according to the field of application). A graphic touch-screen ensures quick and easy process control.
Manufactured by: KARL MAYER Rotal, Italy
FEATURES

BENEFITS

GET A QUOTE
Technical Details
Application range: tape and high tensile filament yarns
Key Features
Beamer with combination of yarn tensioners ensures tension control at same level according to yarn parameters
Homogeneous build-up of warper beam with KAMCOS computer control system
Yarn tension control by positively-driven feeding aggregate
Highly intelligent unwinding system guarantees the tape yarn/film unwounded uniformly and process warping speed up to 300 m/min
Your message was sent successfully. Thanks.