The original German technology stenter with thermal management, high productivity, low maintenance, and high level of automation as the major focus in 6500 stenter.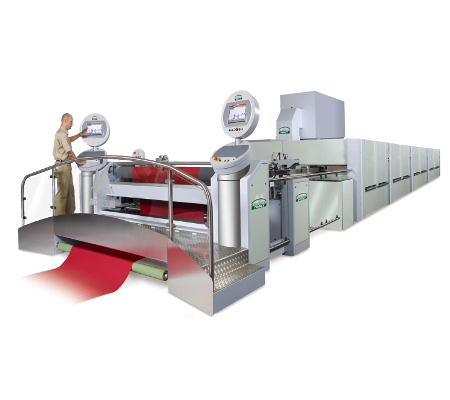 Montex 6500 c
(Stenter frame with heat recovery system)
6500 model stenter machines are manufactured with German technology. These machines are characterised not only by high quality output but also for their energy saving drying and heat treatment processes. High level of automation, efficient thermal management, and little or no maintenance are the hallmark features of the 6500.
Manufactured by: M/s Monforts Fong's Textile Machinery Co. Ltd., PRC
FEATURES

BENEFITS

RESOURCES

GET A QUOTE
Technical Details
Machine speeds: 5-100 m/min (other speeds upon request )
Maximum chamber temperature: 220ºC
Minimum working width: 90 cm
Working width range available: 180 cm and 340 cm
Number of chambers available: 4-10
Stentering chains: Hercules horizontal with long-term lubrication
Key Features
Hercules horizontal chain with long time lubrication
Pin and combi chain with maintenance free width adjustment spindle
All fabric transport drives are equipped with frequency-controlled 3-phase AC motors
Chambers with modular and space-saving design for optimum accessibility
Short controlled fabric guidance for optimum feeding
Separately controlled air flow for top and bottom air
TwinAir with inverters
Selvedge gumming unit with reservoir
Double layer lint filter Secuclean
Drawable nozzle for easy maintenance
German technology at Asian price
Modular and space saving design with optimum accessibility
Reduced energy input
Gentle heat treatment
No distortion of knitted goods
Reduced operation costs
Attractive cost/benefit ratio
Your message was sent successfully. Thanks.