A German technology stenter, the Montex 6500c has been global synonym for top-rate technology for best results in finishing treatment. It is more economical in operation and more universal in use.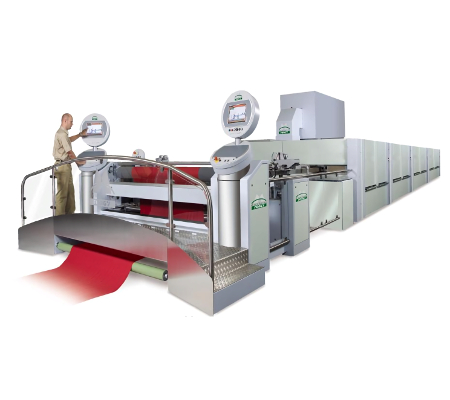 Montex 6500c Stenter
Equipped with TwinAir technology, this model comes with minor technical modifications to suit the local conditions.It is applicable for all dry and heat setting processes and for all types of fabrics. The fabric transport drives are equipped with frequency controlled 3-phase AC motors for smooth transport. It comes with short controlled fabric guidance for optimum feeding, even for extremely delicate fabrics.
Manufactured by: Monforts Fongs Textile Machinery Co. Ltd., Hong Kong
FEATURES

BENEFITS

RESOURCES

GET A QUOTE
Key Features
Selvedge gumming unit with reservoir
TwinAir with inverters
Separately controlled air flow for top and bottom air
Short controlled fabric guidance for optimum feeding
Chambers with modular and space saving design
Fabric transport drives with frequency-controlled 3-phase AC motors
Pin and combi chain with maintenance free width adjustment spindle
Hercules horizontal chain with long time lubrication
Machine speeds: 5 - 100 m/min (other speeds upon request)
Maximum chamber temperature: 220°C
Minimum working width: 60 cm
Working width range: 180 cm and 240 cm
Number of chambers available: 4 - 10
Double layer lint filter Secuclean
Drawable nozzle for easy maintenance
German technology at Asian price
Modular and space saving design with optimum accessibility
Reduced energy input
Gentle heat treatment
No distortion of knitted goods
Reduced operation costs
Attractive cost/benefit ratio
Your message was sent successfully. Thanks.