The DynAir 6500 works on the tumbler effect offering improved performance and universal application for open width tubular knitted fabrics as well as thermo-bonding non-wovens.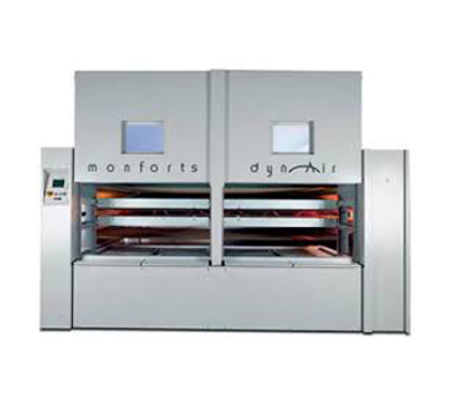 DynAir 6500
(Relax dryer machine)
The DynAir relaxation dryer offers improved performance and universal application for terry fabrics. It is also possible to integrate a heat recovery unit and offers 15 percent higher drying performance thanks to a higher number of nozzle elements. Its modular design makes it very easy to adapt it for changing requirement. DynAir is manufactured in such a way that it does not take much space and easily accessible. It comes with special paneling for low heat radiations. It is adaptable to the boundary conditions of a particular application and different operating process for optimum energy utilisation.
Manufactured by: A. Monforts Textilmaschinen GmbH & Co. KG, Germany
FEATURES

BENEFITS

RESOURCES

GET A QUOTE
Key Features
Air locks at the fabric entry and exit openings
Special panelling tor low heat radiation
Slot nozzle system
Integrated exhaust air duct
All heating options available including indirect gas heating system
Modular chamber design with space saving construction and integrated exhaust duct
Modular design
Operator friendly with various permutation of fabric entry and delivery
TwinAir principle of independent airflow regulation for top and bottom air
Higher evaporation rates
Continuous fabric support even at the chamber transition points
Uniform heat distribution
Gentle heat treatment
Optimum energy utilisation
Ideal non-stop finishing line for natural relaxing and shrinking of knitted fabrics in a single process
Attractive cost/benefit ratio
Your message was sent successfully. Thanks.