Zimmer's Modus Loop Steamer ensures excellent finishing results and brilliant colours while saving energy. The improved yield of colour greatly improves the textile prints of webs and knits of all types of fibres and weights of textiles. Modus also makes it possible to receive an increased performance for the production of critical dyestuffs and substrates. Exactly reproducible temperature and humidity values as well as the tensionless web guiding ensures repeatability.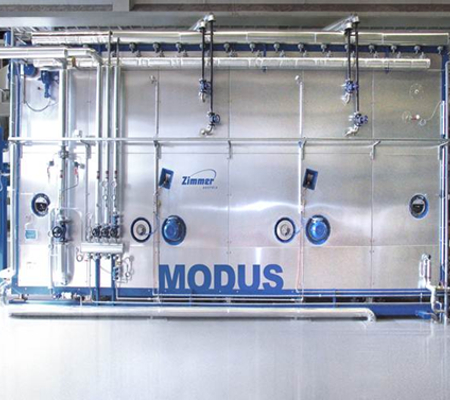 Modus Loop Steamer/Ager
Zimmer's Modus Loop Steamer is simple to use and has low maintenance. The illuminated window allows regular optical control of the sequences during the production. Any deviations of measures will be recognized and can be validated rapidly with the computerized control system. Additionally, large hatches and a walkable inside floor allow convenient maintenance.
Downtimes are minimized and production accelerated. The operation additionally is alleviated by the clearly structured displays placed at both ends of the machine.
Manufactured by: J. Zimmer Maschinenbau GmbH, Austria
FEATURES

BENEFITS

GET A QUOTE
Key Features
A clear and simple to handle computer system. The data memory and fidelity has been designed for the new concept of use
The heating device with thermal oil for the treatment of the dyes with superheated steam of up to 165°C, like Disperse dyes and for the hot air polymerizing of pigment colors at 160 to 170°C
Intense circulation of the chamber volume by means of ventilators
Integrated sump steaming principle and water injection system for the treatment of chemicals fixing at a temperature range of 101 to 105°C, like i.e. Reactive-, Acid-, Basic- and Indanthrene dyes
Three processes in one machine - saturated steam, superheated steam, and hot air polymerisation
Operator-friendly computer system
Your message was sent successfully. Thanks.