It is specially designed for bulky fabrics like towels, heavy curtains, and decorative fabrics for both home textiles and automotive segments. This machine is also suitable for vat dyeing.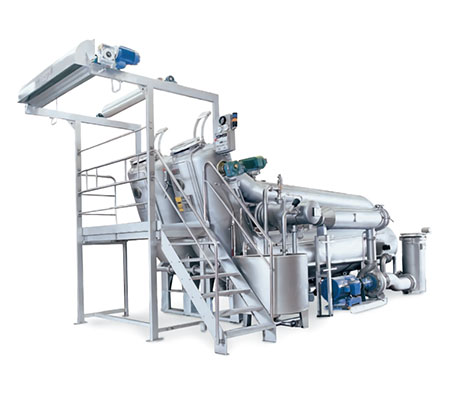 Towel-8
(High temperature towel dyeing)
The TOWEL-8 is designed for the pre-treatment, dyeing, and after-treatment of high pile terry and towel etc. The circulation system is chosen for an overflow and gentle treatment of the heavy fabric. It is the high temperature version of the towel dyeing machine which can be totally sealed up for the application of vat dye. The nozzle is sized for smooth passing through by the fabric and extensive exchange with the dyeing liquid. Filters are provided at the suction and the delivery line of the circulation system ensures non-stop running of the machine throughout the whole process. Two standard nozzle sizes with a large diameter are available for selection with optional nozzle sizes of smaller diameter to match with a lighter fabric material.
Manufactured by: Fong's National Engineering Co., Ltd., Hong Kong
FEATURES

BENEFITS

RESOURCES

GET A QUOTE
Technical Details
Liquor ratio: approx. 1:8
Capacity per chamber: from 350-500 kg
Suitable fabric weight: 600g/m2 or above
Heating gradient: 25ºC ~ 100ºC approx. 5ºC/min 100ºC ~ 130ºC approx. 2.5ºC/min (dry saturated steam pressure at 7 bar)
Design temperature: 140ºC
Design pressure : 3.5 bar
Cooling gradient: 130ºC ~ 100ºC approx. 3ºC/min 100ºC ~ 80ºC approx. 2ºC/min (cooling water at 3 bar, 25ºC)
Key Features
Main control cabinet with FC30 program controller
Suitable for high quality towel fabrics
Best for dyeing heavy fabrics
Machine body and major wetted parts by dye liquor made of 316 Ti/316L
Overflow nozzle
Heavy duty stainless steel pump, frequency inverter control
High efficiency tubular heat exchanger with combined filter compartment
Automatic fabric upper tangling release device
Fabric is more relaxed
Horizontal storage chamber implies less stacking load due to fabric's own weight
Twin filter system produces clean fabric surface
Piles are retained in its proper shape after treatment
Circulation pump is sized for heavy fabric
Large nozzle for smooth running of fabric
Gives soft touch to the fabric
Your message was sent successfully. Thanks.