This HTHP dyeing machine is specially suitable for terry towels. JumboTowel is environmentally friendly with fully automatic functions.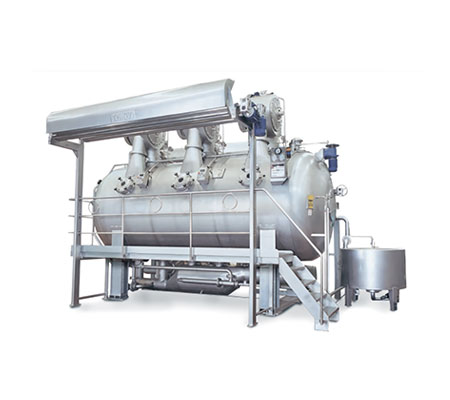 JumboTowel
(High temperature dyeing machine)
The unique features of the towel such as low twist, high terry, high bulky, super-soften, and excellent touching quality require a specialised machine to achieve an excellent processed quality. Conventional dyeing machines are always difficult to obtain a satisfactory result, especially for the high thickness fabric. JumboTowel is designed to meet all these challenges. It is suitable for the pre-treatment, dyeing and after-treatment of towels, high pile fabrics, heavy curtains, and decorative fabrics for both home textiles and automotive upholstery.
Manufactured by: Fong's National Engineering Co., Ltd., Hong Kong
FEATURES

BENEFITS

RESOURCES

GET A QUOTE
Technical Details
Design temperature: 140ºC
Design pressure: 3.5 bar
Heating gradient: 25ºC ~ 100ºC approx. 5ºC/min 100ºC ~ 130ºC approx. 2.5ºC/min (dry saturated steam pressure at 7 bar)
Cooling gradient: 130ºC ~ 100ºC approx. 3ºC/min 100ºC ~ 80ºC approx. 2ºC/min (cooling water at 3 bar, 25ºC)
Suitable fabric weight: 200 ~ 600g/m2
Maximum capacity per chamber: up to 400 kg
Liquor ratio: approx. 1:6
Key Features
Hot water Stock Tank (HST) or Multi-function Stock Tank (MST)
Service tank with feed pump, valves and mixing function
Fabric plaiting device for fabric storage chamber
Fuzzy logic temperature control software
Variable loading chamber
Heavy duty stainless steel pump, frequncy inverter control
Machine body and major wetted parts by dye liquor made of 316 Ti/ 316L
Spacious fabric storage chamber capacity up to 400 kg/chamber
Low liquor ratio of 1:5.6 thus saves time and energy
Main control cabinet with FC30 program controller
Your message was sent successfully. Thanks.