The Mahlo RVMC 15 / Orthopac REMC is a basic weft straightner available either with hydraulic or electric drive for bow and skew roller movement to measure and control bow and skew distortions in the fabric. Suitable for woven and knit fabric (with tension control).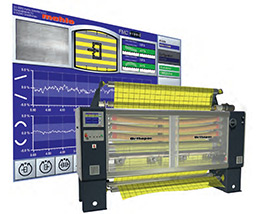 RVMC 15/Orthopac REMC Basic Weft Straightener
Mahlo RVMC 15/Orthopac REMC combines, in a single assembly, the attributes of an Orthomat straightening machine with those of an Optipac process control system. This provides the dual benefit of potential savings and the use of common components.
Manufactured by: Mahlo GmbH & Co. KG., Germany
FEATURES

BENEFITS

RESOURCES

GET A QUOTE
Key Features
Measure and control bow and skew distortions in fabric
Can be equipped with process control system such as Ecopac EMC (Orthopac REMC) or Optipac VMC (Orthopac RVMC)
Wide range of filters available for a variety of fabrics
Your message was sent successfully. Thanks.