The Mahlo Orthofact RMB 12 automatic pin wheel weft straightner removes asymmetrical distortions (wavy, S-shaped, etc.) in textiles by applying a defined lateral tension using freewheeling, inclined pin wheels. This cross-tension stretches the warp threads to correct all types of distortion.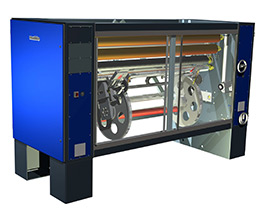 Orthofact RMB 12 Automatic Pin Wheel Weft Straightner
Asymmetrical distortions (wavy, S-shaped, etc.) in textiles have always represented a huge challenge in the textile industry. Distortion always means that the rectangular structure of warp and weft threads of woven fabrics is distorted resembling something like a parallelogram. To restore the warp and weft threads to their original state, the Mahlo Orthofact RMB 12 applies a cross-tension that stretches the warp threads. Both wavy and S-shaped distortions, will be corrected.
Manufactured by: Mahlo GmbH & Co. KG., Germany
FEATURES

BENEFITS

RESOURCES

GET A QUOTE
Key Features
Comprehensive software with touchscreen control
Intelligent drive
Bypass function
Adjustable unclipping device
High lateral tension possible
Pinning width adjustable during operation with software
Suitable for woven fabrics only
Capable of correcting both wavy and 'S' distortions
Combination of pin wheel weft straightener and roller straightening system
Your message was sent successfully. Thanks.