Mahlo Ecopac is a flexible and modular process control system for dryers that monitors and controls important fabric and process-related parameters.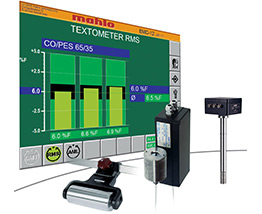 Ecopac EMC Modular Process Control System
An Ecopac is a flexible and modular system process control system for the drying process which includes monitoring and control of vital fabric and process-related parameters such as moisture retention, fabric temperature, and exhaust humidity. Mahlo Ecopac can monitor three parameters simultaneously. It has a display for each of the three modules and allows users to track all three parameters at the same time.
Manufactured by: Mahlo GmbH & Co. KG., Germany
FEATURES

BENEFITS

RESOURCES

GET A QUOTE
Key Features
Measures and controls three drying process parameters simultaneously: fabric moisture, temperature, exhaust humidity
Each parameter displayed on individual, user-friendly display
Consistent quality coupled with energy savings
Your message was sent successfully. Thanks.